ALL NATURAL
EVERLASTING QUALITY
SIMPLE INSTALLATION
Our porcelain is synonymous with strength, made with only three natural ingredients - clay, sand, and feldspar.
Our roof tile is resistant to scratches and abrasion as well as stains, chemicals, and algae growth. It will look amazing and perform above and beyond for many years.
Our installation process, with interlayment, allows our product to be lighter than other refined tile and slate for the roof.
A Name You Can Trust
Daltile has manufactured tile for more than seven decades. We understand the value of durability, luxury, and longevity. We have extended that expertise to roofing with superior quality and style. Plus, our 70+ years of experience confirms the materials we use can withstand extreme wear and tear.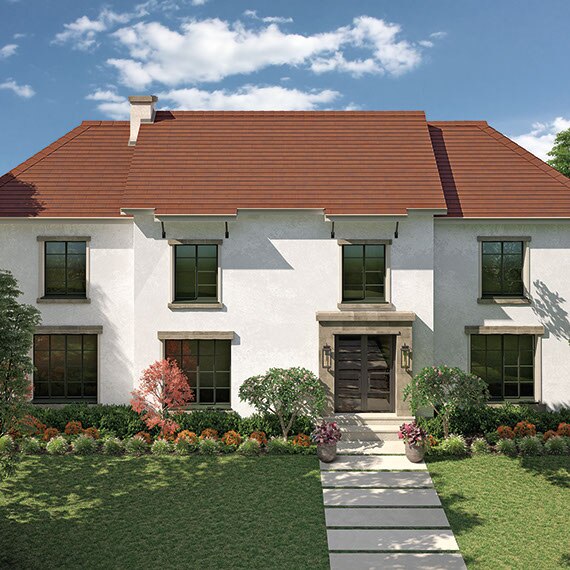 High-Tech Tile
We use advanced technology like Reveal Imaging® to create an authentic-looking reproduction of wood, clay, and slate roof tiles. Proudly made in the USA, Perennial Porcelain Roofing tile is certified porcelain and made with recycled materials. All products are protected by a limited lifetime warranty.
Durable Options
Our roof tile comes in 11 x 22 inches with an 8 x 8 ridge trim. It is offered in a Standard thickness of 5/16" (8-9 mm), which provides excellent protection from the elements, as well as an HD thickness of ½" (12-13 mm), which offers added durability for homes that experience severe weather.
Elegant Design
Rather than go unnoticed, home roofing should instead be an accent to the curb appeal of your home. Perennial Porcelain Roofing tile was designed with timeless beauty in mind, delivering a lasting splendor that will never go out of style. Choose from six different colors in several styles.